Exciting field trips are an essential part of inspiring Geography teaching, yet due to the level of paperwork and worries over risk assessments, many schools have seen them decline. Paul Cornish, Head of Geography at The Coopers' Company and Coborn School in Essex, has bucked this trend and recently took 50 of his students from Years 11, 12 and 13, on a field trip to India for the first time.
"Leading the tour of India gave me the opportunity to read about and research many of the issues facing the country today. The knowledge gleaned enabled me to select the most prominent speakers and structure a PTI training day around exactly what today's Geography teachers need to know about India."
– Paul Cornish, Head of Geography, The Coopers' Company and Coborn School, Essex
The trip started in Agra, with a historical tour of the Taj Mahal and Agra Fort. At Ranthambore National Park pupils were excited to experience safari, critically assessing the sustainability of 'ecotourism' while failing to spot the elusive tigers! Back street tours of Jaipur, Ludhiana and Amritsar provided students with an unforgettable experience of the hustle and bustle of daily life. Another highlight was the Sikh Golden Temple at Amritsar, visited on Diwali to witness a spectacular fireworks display, amidst throngs of thousands of worshipers. After the experience of city life, the group travelled up to the peaceful hill-stations of Dharamshala and McLeodGanj, home of the Tibetan government-in-exile.
Exploring topics primarily drawn from the Geography curriculum but also covering History and Religious Education, the children were directly exposed to and able to consider issues such as the political migration from Tibet, the impact of farming on water supplies, the rural-urban transition of farm folk, as well as observe geological formations while trekking in the foothills of the Himalayas.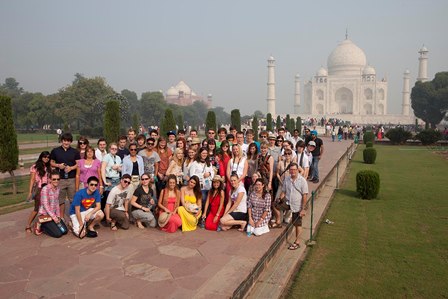 Paul has been working with the PTI as a Geography Subject Leader since 2009. Inspired by what he saw and learnt on the India field trip, Paul designed a CPD day with the PTI titled 'India as an Emerging Economy', allowing other teachers to share his experience and knowledge. The day included workshops led by Paul on how to bring the essence of India and its diversity into the classroom, lectures on India's economic development, education and sustainability from subject experts including academics from the University of Cambridge and the London School of Economics. The Rt. Hon. Patricia Hewitt, current Chair of the UK-India Business Council and former Labour MP, also delivered a fascinating session on the idiosyncrasies of doing business with and in India.