Durham Johnston School is a large, mixed, 11 to 18 comprehensive. The school has a strong ethos of achievement and aspiration, which is completely aligned with that of The Prince's Teaching Institute (PTI).
The Art department from Durham Johnston participated in the PTI's inaugural Art Residential in 2012 and has since been a determined member of the Schools Programme. Inspired by the Residential, the department introduced a number of successful programmes including:
Digital Art schemes of work for Year 7

Artist in Residence workshops, including visits from university lecturers, a handbag designer and a printmaker
Trips to the Durham Cathedral and local art exhibitions
Lunchtime Art Club and photography sessions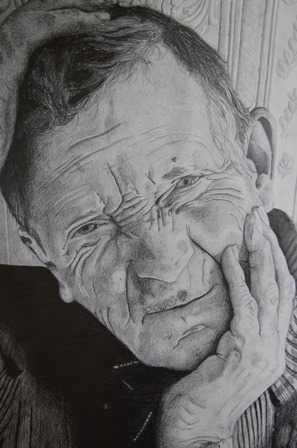 Portrait by Year 13 pupil, Lauren Mincher, that won a £12,000 Saatchi Prize
Furthermore, we are pleased that the Head of Art, Sheila Hitchcock, took on the role of PTI Art Consultant at our Schools Programme Day held in July 2014, mentoring other Art teachers to help them develop ambitious and challenging departmental plans.
"My motivation lies in the challenge of providing an excellent Art education for young people that opens doors and provides opportunities beyond their expectations. Inspiration from The Prince's Teaching Institute has enabled the continued success of the department." - Sheila Hitchcock, Head of Art, Durham Johnston Comprehensive School
he Durham Johnston Art Department has been highlighted by Ofsted for Outstanding Practice. The Art Department's crowning achievements have been winning a Saatchi School Prize, having the work of their A Level students selected for an exhibition by the Royal Academy of Arts and winning Business Education's 2014 Outstanding Art and Design Award.
"The high quality outcomes achieved reflect the excellent teaching and the high importance students attach to the subject" - Chief HMI for Art, Ofsted Good Practice Report, 2013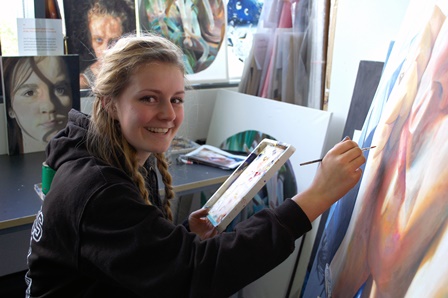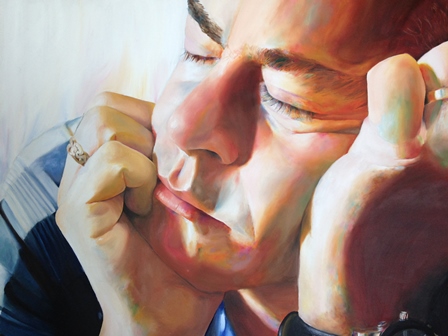 Jennifer Cuthill, Year 13 pupil, and her portrait of her Dad. Jennifer received an A* in her Art A Level and is going on to study Fine Art at university. Many students from Durham Johnston School have secured places to study Art at prestigious HE institutions, including Oxford, Central St Martin's, Glasgow School of Art, UCL and Goldsmiths.