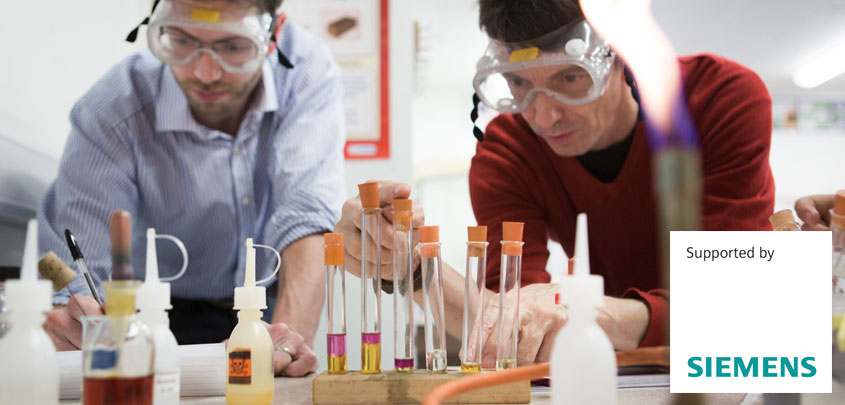 The Siemens Curiosity Project is an engagement programme by Siemens, broadening their existing investment to bring science, technology, engineering and mathematics (STEM) to life in the UK. The Curiosity Project supports the Schools Programme and Science Residential.
Siemens' support will enable heads of department from state secondary schools across the country to benefit from up to date knowledge, resources and ideas to deliver truly inspiring lessons.
Siemens will also conduct a research programme throughout the term of the project, to quantify the impact upon a young person's understanding of engineering that a business engaging with parents, students and teachers can have.
The investment is in response to engineering companies needing 1.86 million people with engineering skills from 2010-2020. The UK needs to double the numbers of engineering related apprentices and graduates coming out of colleges and universities. To support this, the UK needs to double the number of young people studying GCSE physics as part of triple sciences and grow the number of students studying physics A Level to match those of maths.
Juergen Maier, Chief Executive, Siemens plc said: "I'm extremely proud that Siemens is engaging young students, teachers and parents all across the UK both in and out the classroom, unlocking the exciting potential of a career in engineering. I am confident that Siemens and our partners in this area can make a significant difference, and via our research, we intend to prove it."
Imran Khan, Chief Executive of the British Science Association, said: "We are really excited about our partnership with Siemens, as headline sponsor of the British Science Festival. Their support has enabled us to run a science and careers in action zone for the first time this year. We want to inspire a generation to be comfortable with science, whether they end up working in science or not. Working with Siemens will help us to challenge stereotypes of people working in science, allowing us to highlight inspiring mentors, exciting careers and fascinating research and technology."
Sir Paul Nurse, incoming President of the British Science Association, said: "It is very good to see big corporations like Siemens becoming engaged with the public over science and supporting organisations like the British Science Association and other initiatives in the sector. Through such public engagement, Siemens will enable the BSA to celebrate the role of - and strengthen its own links with – industry; raise the profile of the range of careers available to young people; and hopefully inspire a new generation of innovators, researchers and engineers.
"I am looking forward to seeing the impact that Siemens' new sponsorship programme has on the UK's future economy and workforce."
Chris Pope, Co-Director, the PTI, said: "We are proud to be part of Siemens' Curiosity Project. The PTI has long worked to support and inspire teachers, as we believe that passionate and knowledgeable teachers are the key to unlocking curiosity and ambition, and thereby transform a young person's life. We are delighted to be working in partnership with Siemens to help create a transformation in Science learning in classrooms across the country. Siemens' support will enable us to reach over 150,000 children."
For further information about The Siemens Curiosity Project, please click here.
Sign up for a Science Schools Programme Day, in association with Siemens, in Cheshire or London. Or to book a place at this year's Science Residential, in association with Siemens, click here.