Mandela and other prisoners on Robben Island had access to a smuggled edition of the Complete Works of Shakespeare.
Many inmates signed and dated their names next to poignant passages with themes of hardship and injustice.
Mandela himself signed his name beside an extract from Julius Caesar.
The passage includes the line, "Cowards die many times before their deaths/The valiant never taste of death but once".
This can be discussed in class by asking your students to consider:
Why Mandela might have chosen this passage
What passage would they personally choose, and why it inspires them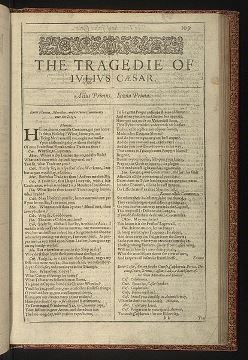 Jessica Bedi, English teacher at North London Collegiate School, shared this idea after hearing Dr Hester Lees-Jeffries (University of Cambridge) speak about Shakespeare: New worlds and infinite spaces at the English Enrichment Residential in 2017.
Schools Programme members can download the resources from the event in the PTI Staffroom.
Want to discover more inspiring subject knowledge? See our upcoming courses and events for 2017, including upcoming CPD Days The character of tragedy: Macbeth and Othello at KS4-5, Writing for purpose, and our Primary CPD day Bringing Macbeth to life.
Find more knowledge nuggets here!
Image: Edward Blount and Isaac Jaggard, The First Folio, via Wikimedia Commons licensed via Public Domain (https://en.wikipedia.org/wiki/Public_domain)