Mary Shelley may have written Frankenstein as a warning to Percy Shelley about his obsessive nature, with Victor Frankenstein representing Percy.
Alternatively, the novel can be read as an exploration of the French revolution.
These are just two interpretations of Mary Shelley's Frankenstein.
Help your students consider the different interpretations by:
Looking at the drama/documentary a Dark and Stormy Night
Discussing social and historical context
Applying the importance of context in the reading of the text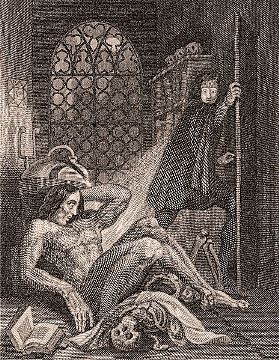 Helen Cleary, Head of English at Altrincham Grammar School for Girls, was inspired to suggest this teaching idea after hearing Dr Emma Liggins' (Manchester Metropolitan University) lecture on 'Monstrosity and otherness' at our Frankenstein: Taming the monster CPD day.
Schools Programme members and course attendees can download the resources from the event in the PTI Staffroom.
Want to discover more inspiring subject knowledge? See our upcoming courses and events for 2017, including our upcoming CPD Days Making the most of shorter C19th fiction and The shape of poetry. Re-engage and inspire through the study of the poetic form.
Find more knowledge nuggets here!
Image: by Theodore Von Holst via Wikimedia (https://commons.wikimedia.org/wiki/File:Frontispiece_to_Frankenstein_1831.jpg) licensed via Public Domain (https://en.wikipedia.org/wiki/Public_domain)