Try something different in the French classroom by using Abd Al Malik's track 'Soldat de plomb' as an inspirational and authentic resource for Key Stage 4 and 5.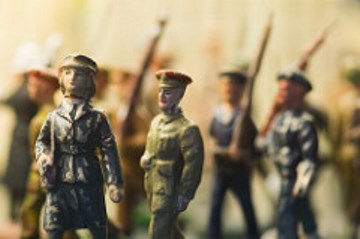 Here are a few ideas for using with a Key Stage 4 class:
Ask your students to comment on the style of music using target language
Get students to look at the lyrics and identify cognates
Design a 'gap fill' exercise for your students complete
Devise, and get your students to answer, questions based on the track.
For Key Stage 5, you could incorporate this resource by:
Preparing a 'gap fill' exercise for teaching slang
Encourage discussion of the meaning behind the track to engage students in deeper analysis.
Paul Haywood, Head of MFL at The Henrietta Barnett School, shared this idea after hearing Dr Catherine Hampton, University of Warwick, give a talk entitled Exploring the Music of Abd Al Malik at day two of our New Teacher Subject Days course.
Schools Programme members can download the resources from the event in the PTI Staffroom.
Discover more inspiring subject knowledge at our new courses and upcoming events.
Find more knowledge nuggets here!
Image: Male and Female Soldiers by Thomas Quine, via Flickr (https://www.flickr.com/photos/91994044@N00/28723310151). Licensed by Creative Commons (https://creativecommons.org/licenses/by/2.0/)