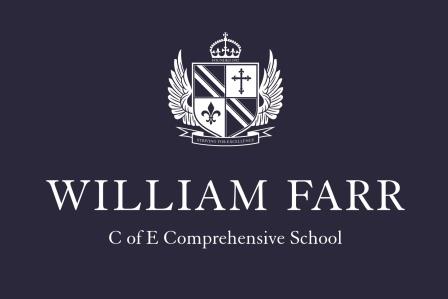 William Farr C of E Comprehensive School is a keen member of the PTI and currently has eight departments as members of the Schools Programme or undertaking Associate Department Scheme projects. A number of staff from these departments have been PTI teacher leaders and have led sessions at PTI events.
English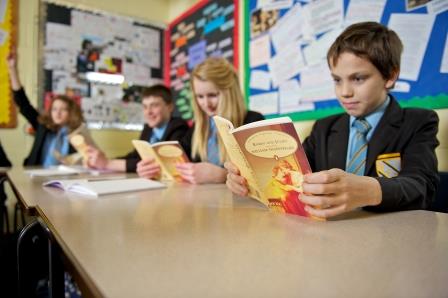 The English department is in its second year of their second Associate Department Scheme research project focusing on extending reading to raise achievement, particularly for boys. This has grown out of the very successful creative writing weeks that formed the focus of their first AD research project.
This time, the department is exploring ways of engaging boys more actively in reading as a means of developing their skills and confidence in preparation for the GCSE exam, but also more importantly to bring back that love of reading for pleasure. The project focuses on a variety of ways to engage students in talking about books and sharing their ideas for reading. We are experimenting with scrapbooks where students create records of their reading in a more personalised fashion; forming small reading groups of more niche texts such as manga and graphic novels; and are currently exploring twitter feeds and discussion groups.
This will all feed into the annual creative writing week where the now-established retinue of guest authors will come in and give talks to students about their current writing. Andy Briggs, author of the Tarzan reboot book series, and Ash Dickenson, a performance poet, have previously launched their new publications at the school, so it's always a week to anticipate! This project has allowed the team to focus more deeply on ways in which students can value their reading and have opportunities to talk about what they have enjoyed. Our next steps are to tap into guest lecture series and master classes for Key Stage 4 and 5 students by developing contacts with local universities.
History
The History department is now focusing on its Associate Department Scheme research project, which is developing a cross-curricular approach to studying the First World War. Year 9 pupils were visited by a First World War expert who brought with him over 300 original artefacts, including Lee Enfield rifles and a Vickers machine gun. This is part of the research pupils have been doing on the personal story of a First World War soldier. The department has also worked closely with the Geography department to organise a cross-curricular trip to the Battlefields, which has run for the past two years.
In addition to this, the History department has initiated a cross-curricular approach to commemorating the Battle of the Somme, with many departments contributing imaginative and engaging activities for different year groups. For example, the Science department developed a scheme of work on the impact of war on science, and in ICT, pupils looked at the development of the tank. We have also joined up with the Drama department to participate in the Lincoln City commemoration on the Somme and the tank.
Our A Level pupils attended a lecture given by the Historical Association on the making of the propaganda film The Battle of the Somme and have also competed in the regional final of The Historical Association's public speaking competition, The Great Debate. The topic was 'What does the First World War mean to me?' One of our pupils will speak at the final at the Imperial War Museum in March.
In October, our A Level pupils visited Russia for six days and enjoyed visiting Moscow and St Petersburg, including the sites of the 1917 revolutions.
Our cross-curricular work continues with close work with the RE department and a shared visit to the Beth Shalom Holocaust Centre in Nottinghamshire. This year pupils will also hear a live link to a talk from a survivor of the Holocaust.
Science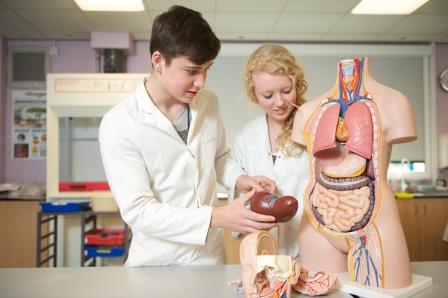 Membership of the PTI has empowered the department to re-engage and focus on promoting enthusiasm through opportunities for rigorous study beyond the syllabus and through wider participation in the range of extracurricular activities. As a member of the Schools Programme since 2009, we focused on the four main strands and this has allowed the department to take control and lead the improvement rather than reacting to the ever changing landscape of educational reform.
Now as a member of the Associate Department Scheme we are able to take time developing one aspect to hopefully move learning forwards at speed. From work done through lesson observation and professional discussion, developed from the Schools Programme we initiated a new format for effective feedback. We assessed the impact of teacher's feedback on students learning, using student voice and CPD opportunities. From this we taught the students to develop smart targets. During our second year we are developing dialogue feedback so students take ownership of the targets they set and act on them with consistency. We look forward to reaping the rewards of more focused and well informed learners.
Mathematics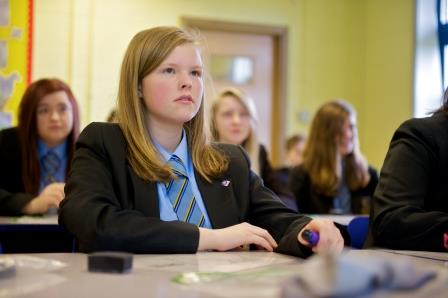 The Mathematics department joined the Schools Programme in 2009 and the PTI has influenced its work since. Currently we are working on ways to stretch the most able of our Year 7 students through a greater emphasis on problem solving techniques in lessons and in our assessments.
In Year 9 we are developing a "pre-learning" homework programme. Each differentiated homework piece gives notes and questions on a topic from Year 8 and is set prior to revisiting the topic in Year 9. This encourages students to be more independent in their studies and enables lessons to focus on new ideas.
In Key Stage 4 we are tailoring our teaching to make students more effective at solving unstructured problems. We are trialling a "problem solving grid" with students and are adding key tasks and questions to our schemes of work. We have also introduced a new graduated homework programme where pupils answer exam questions on a range of topics covered previously. This continual review is meant to build their knowledge and confidence. Again, it also allows more time for new content and problem solving within lessons. Outside of the classroom we continue to offer a range of activities for pupils including national competitions, team challenges and peer mentoring.
Geography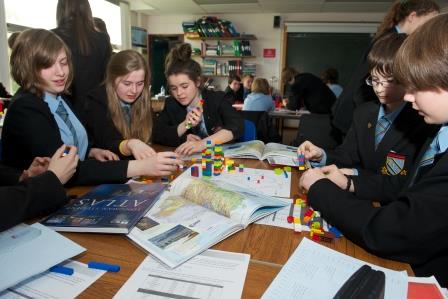 The Geography department is keen to develop its staff and share its expertise. Two members of the department have written and given online CPD sessions on 'Strategies for delivering outstanding lessons' for GCSE. We have developed a relationship with several teachers from other schools, and offer support for moderation and task setting for controlled assessment, including filming two short guidance videos on how best to plan and moderate controlled assessment for the exam board. We have also had an article published in Teaching Geography.
We have been looking at improving the quality of our schemes of work to incorporate new technologies and current issues, as well as including a wider variety of activities to instill an enthusiasm for Geography. The 'Geography of Crime' has been re-written to include a number of GIS lessons and a new scheme of work on 'Population and Development' has been added to Year 8. We have also developed the transition between Key Stage 2 and 3 by starting a summer postcard project in our Year 6 induction lesson which feeds into the 'Locational Geography' scheme of work in Year 7. In-school competitions, such as the Year 7 'Thinking Inside the Box' and 'The Best Geography Album in the World' CD in Year 9 have inspired our pupils.
The Geography department has spearheaded the use of Twitter to show excellent work and encourage Sixth Form students to read wider to improve their breadth and understand the wider connections in Geography. We can be found at @WFS_Geography.
Modern Languages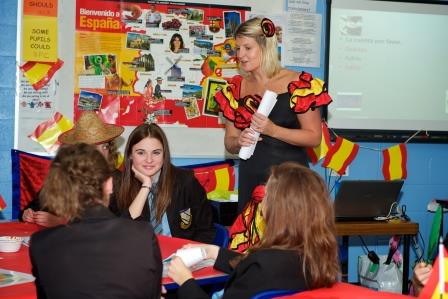 The Modern Languages department is working hard to promote language learning in the classroom and to develop expertise within the department. Year 9 students enjoyed a Spanish culture and language day in October and currently Year 7 students are busy working independently on producing scrapbooks in French. All staff in the department have had a real focus on the use of target language in the classroom and have been encouraging the students to use it and be spontaneous. Departmental meetings focus on sharing good practice. Lunchtime sessions with the FLA are run to enable staff to learn another language giving them an insight into the challenge that this presents. We are very keen to develop our links outside school and promote cultural opportunities. Pupils from Years 9 and 10 have participated in a study trip to Paris where they attended language lessons in a private school and experienced the breath-taking beauty and culture of the city. The Year 13 German class had a long weekend in Berlin where they visited many of the most notable landmarks in the city including the Reichstag, the Fernsehturm on the Alexanderplatz, Checkpoint Charlie and the Brandenburg Gate to name a few. They also practised their German language skills around the Christmas markets. Later in the year are the Year 9 Spanish Study Trip, the Year 9 and 10 French Exchange and the Year 8 Normandy Trip!
Art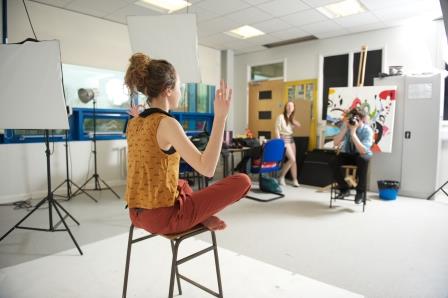 The Art department has been involved with the PTI since its inaugural Residential for Art teachers in November 2012. The sketchbooks that the other delegates brought to the conference were creative and inspiring and provided a valuable opportunity to celebrate the richness of the subject. Art staff have been keen to share good practice and have delivered CPD sessions to other staff and local primary school teachers on practical techniques to use in the classroom to enhance displays and exhibitions. This led to other sessions on transferable skills through use of materials, resources and techniques in the classroom. We are working to encourage more boys to take art at GCSE. The introduction of dry point etching was particularly successful leading to screen printing activities and other printmaking techniques and is now included in our Year 9 scheme of work. As well as visiting local galleries and exhibitions we have taken GCSE students to visit the Tate Modern to see the Lichtenstein exhibition and have run a New York trip for the Sixth Form. A level students have attended the Collection and Usher Gallery's young persons' group where they have gained experience in arts management, curatorial practice and events planning. They have also had the opportunity to submit their own work to be used in publicity materials. This year we hope to forge links with the local community through presenting an exhibition of our students work at the Sam Scorer Gallery in Lincoln.
Music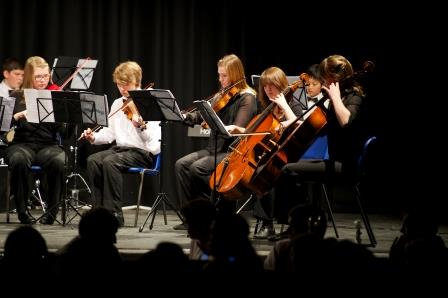 Our involvement with the PTI offered a great opportunity to reflect both on how we can develop our current practice and also celebrate our achievements. Our focus on challenge within the curriculum and beyond has resulted in new schemes of work, better continuity across key stages and even more opportunities for our students to experience live music both as listeners and performers. Our links with the Lincolnshire Schools Music Hub have been highly beneficial and have resulted in the opportunity to network with other music teachers as well as participate in both curricular and extracurricular events at an extremely high standard. The school as a whole is always delighted to see the ever increasing culture of musical performance in the classroom, at concerts and events, in assemblies, the new outdoor performing area and in the wider community. With the PTI we have set ourselves a number of challenges this year. These include work to increase the use of higher order thinking skills by students in self and peer assessments, CPD aimed at the development of Music Technology skills and facilitating twilight Music Technology workshops for students. Music is an important part of culture and personal identity and involvement with the PTI has reinforced the value we place on it at William Farr School.
William Farr C of E Comprehensive School is an academy school with approximately 1500 pupils with a Sixth Form in Welton, Lincolnshire.