At Robert Clack School we are delighted to have a number of departments involved with The Prince's Teaching Institute. We know that our pupils have truly benefited from the work we have completed as a result of our interactions with the PTI.
History department
As part of the PTI's Schools Leadership Programme, the History department has undertaken a number of exciting and interesting projects.
The History department's current project for the PTI Associate Department Scheme is focused on stretching and challenging A Level students through engaging them with academic literature. Works by historians have been explored in lessons and this has enabled students to develop a more in-depth understanding of the periods that they are studying, as well as exposing them to historiography. The school library has bought a range of historians' works, which has helped to inspire students to study History at university. Students have been engaging with challenging historical writing in all aspects of their A level from both examination and NEA. Several of these students have played a key role in the annual Black History Month event which exposes the entire school to history which has not traditionally been a part of the curriculum
At Key Stage 3, the implementation of more rigour at A level has been filtered down and students are being exposed to lengthy extracts from historians along with contemporary extracts. As a department we want to challenge and stretch students' literacy from year 7 through to year 13, allowing them to build sophisticated conceptual and substantive historical language.
The engagement students' have had with history is demonstrated in a Museum project that has been run for the past four years. It began with a group of Year 9 students producing a book based on their experiences called Young Voices: Untold Stories after being taught a unit on migration. The resonance and maturity of their work led to the London Borough of Barking and Dagenham's museum Valence House inviting the students to create an exhibition based on the book. This snowballed into students curating an exhibition in the local museum using excerpts from Young Voices: Untold Stories, along with artwork, photographs and cultural objects from around the world which was displayed from April to May 2016. This same group going into their last year of GCSE curated a second exhibition 'Labels' which was displayed at Rum Factory, Wapping and Oxford House, Bethnal Green led to students. As these students are now in year 12 they are currently planning and creating a series of workshops based all their work so far. We are extremely proud of the students and the History staff who have helped make this happen over these past four years and going forward!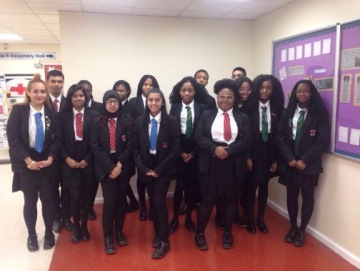 English department
The English department is in the final year of their PTI Associate Department Scheme. We have chosen to focus on encouraging students to read for pleasure and it has been a thoroughly enjoyable experience for all.
We continue to run our very popular Harry Potter reward trip. As a reward for becoming a reading multimillionaire, 30 students from Key Stage 3 will be invited to visit the Warner Brothers Harry Potter Studio Tour. This year we have had to increase the challenge as so many pupils are vying for the challenge, only the top 30 will join us!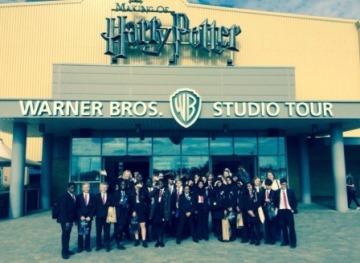 World Book Day was celebrated with a reading fair. Robert Clack seized the opportunity to promote reading to the students and staff of the Green Lane site by holding its first ever Robert Clack World Book Day fair in the lower site library. The fair was a huge success, with participants enjoying the tombola, photo booth, 'guess the number of words' game, Miss Hamid's popular 'Catch the Snitch' challenge, a buzzing book swap and a delicious cake sale.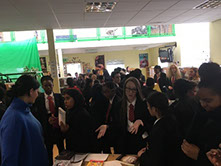 The school librarian, Mrs Monk, who helped run the event alongside teachers from the English department, proudly commented, "The library was overrun with hundreds of students!" As a result of all the hard work, the event raised over £200, which the year 8 charity representatives decided to invest back into the lower site library. Since then the library now is developing a comfy reading space. In the future we are even planning a reading garden!
We have also been on the lookout for readers around the school with our 'Caught Reading' game. Students who are caught reading are rewarded with a new title in assembly. For the older pupils we have set up a twitter feed @clackreads and we share staff reading in the form of bookshelves.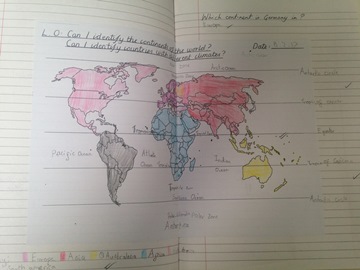 Modern Languages department
The Modern Languages department has enjoyed lots of exciting events and developments through completion of the schools programme.
Firstly, we had huge success with spelling bee competitions. In order to reach our project objective of "closing the gap between literacy in English and the target languages", the department decided to take part in the Routes into Languages Spelling Bee competition.
We held class competitions where all of the students competed against the clock to correctly spell as many words as possible. The winners (two from each class) went on to compete against each other in the school competition. After a fierce battle, the top four students from Year 7 went through to the regional competition held at The Coopers' Company and Coborn School in Upminster, London.
The Modern Languages department has also welcomed speakers from SOAS, University of London, who talked to Year 9 EBacc students about the importance of languages and how they will benefit them. This helped us to reach our objective of "showing pupils how languages can be used outside the classroom" and based on the response of the students, it is fair to say that we did that. They found the visitors extremely interesting and useful.
Finally, we have been working with the founder of Freerunning Sébastien Foucan to organise workshops in French to help engage less motivated pupils. The students are really excited and definitely eager for the challenge, which will take place in the final half term.
Following on from these exciting opportunities we have also created a pen pal scheme.Our partners on the continent at the ' Collège Pierre Dubois' and 'Robert Clack School of Science' are very pleased to see our efforts to come to fruition.
Miss Sabrina Hamama from 'Pierre Dubois' and Ms Elizabeth Muller from 'Robert Clack' hope that this new partnership will allow our pupils to develop their confidence when using their linguistic skills in a real life context, whilst potentially building new friendships.The MFL department is hoping to develop new links with schools in Lille to not only offer a similar opportunity to even more groups at 'Robert Clack', but also an exchange in the future.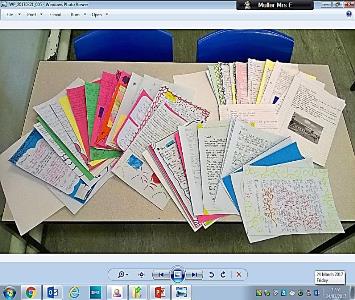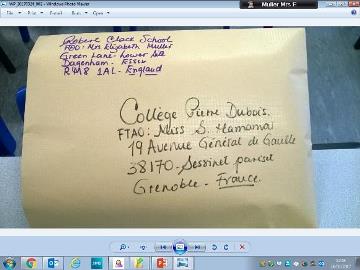 Mathematics Department
The Mathematics department recently completed the three-year PTI Associate Department Scheme, undertaking an extended research project. At Key Stage 3 we used lesson study alongside the Bowland Maths assessment materials to extend students' written and verbal communication in mathematics.
Students often expressed how much they enjoyed lessons which have an emphasis on group work and real-life application of mathematics, and have benefited from an improvement in their mathematical communication skills.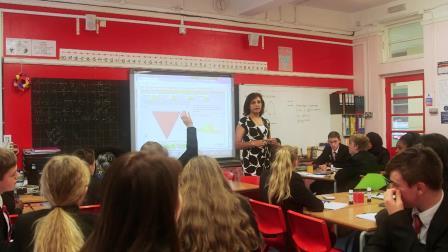 We are fortunate to have ongoing support from Project IMPULS at Tokyo Gakugei University, with one member of our department taking part in a two week immersion programme in Japan. The teachers involved in conducting research lessons have seen the difference it makes to teaching and learning.
The use of the Bowland Maths tasks is now integrated into the Key Stage 3 scheme of work, whilst teacher collaboration and peer observation is increasingly embedded within the Mathematics department.
Science department
The Science department initially used our involvement in the PTI as a chance to increase the breadth of extra-curricular trips and activities that were delivered to students across the school. In recent years, following the success of our work we have focussed our efforts on creating activities that will allow students to deepen their knowledge of Science and how scientists work as well as maintaining the enthusiasm the students have for the subject.
At Key Stage 2 we have been redeveloping links with our feeder schools and demonstrating some of the science we teach to Year 5 and 6 students. At Key Stage 3 we run a very popular science club allowing students to complete extra practical tasks as well as exploring some of the aspects of science which are currently not on the curriculum.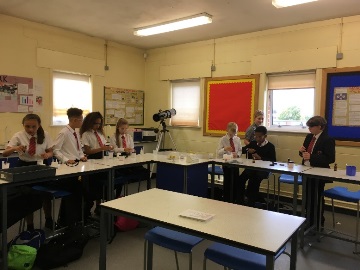 At Key Stage 4, with the introduction of the new GCSEs, we are focussing our time and effort into developing innovative revision resources which students can use outside of school to help them prepare for their exams. One of the big differences with the new GCSEs is the introduction of a terminal exam which means that students need to retain a far greater volume of knowledge than in previous years.
At Key Stage 5, after the AS examinations have taken place, we run a scientific poster competition where students work in small groups to either carry out their own unique research or a literature review of a subject of their choosing. The aim of this is to help students develop their understanding of how scientists work. The posters that the students make are presented by the students to their peers and teachers and winners are chosen.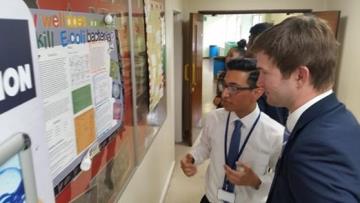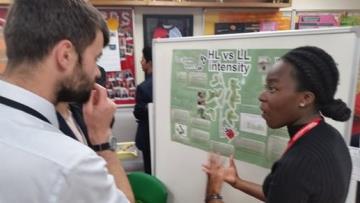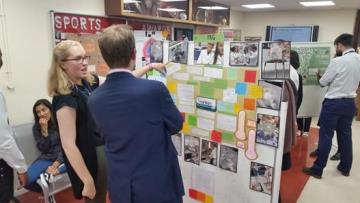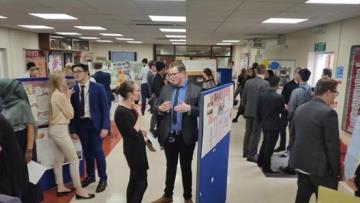 Music department
Working with the PTI has helped us to continually stretch and challenge pupils both inside and outside of the classroom. Our lower school Girls' Choir rehearse every week at lunch time. This involves students from year 7, 8 and 9. Since the beginning of the year A-level music student Adeyesola Boboye has been leading rehearsals to prepare them for a big performance at our Black History Month celebration evening as an initiative to get more younger students involved in the annual event. Adeyesola chose the song 'Patience', an inspirational message song from the musical 'Dream Girls' and the choir members absolutely loved the song choice. They opened the event and performed exceptionally with Adeyesola conducting. Here is a picture of them on the night.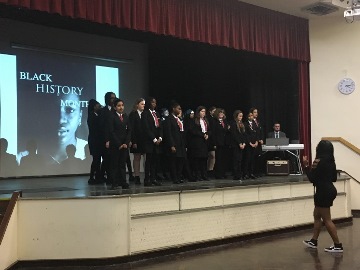 Robert Clack School is a mixed comprehensive school catering for over 2,000 students in Dagenham, London.