History
Our new focus in the History Department is 'Beyond Because: Improving literacy skills in History'. As we are in the second year of our project, some of the initiatives we developed last year are now being embedded in our practice. Our aim is to develop students' written expression so that the quality of their History writing is as strong as the factual knowledge they have of key people, dates and developments. It will also enable them to develop stronger, more accurate and evaluative points in their writing.
One strategy is for Key Stage 3 and Key Stage 4 students to regularly use our yellow connectives sheets, which contain key lists of sequence words, qualifiers and other helpful connectives to develop their History writing. The photo below shows Year 11 using them in response to a practice exam paper for their IGCSE exams in May. Whenever a student uses a word from the sheet they underline it so they can see the improvement. There are rewards if they think of their own suitable word which is not on the connectives sheet. This is proving to be a very practical resource and we have shared it with other departments at OPGS.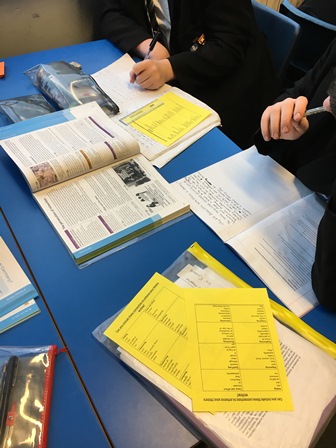 Another aspect of our project is developing more classroom displays to highlight and promote excellent practice. The display pictured below is located in a space that allows students to get close to it and read other students' marked work when it is of exemplary standard. We are careful to pick the very best work which exemplifies our aspirations for all students. Significantly, the work is not always from the students they might expect.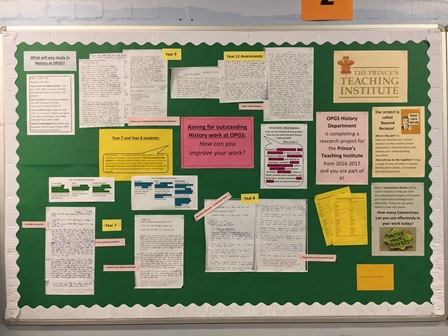 Lastly, we are in the process of developing a History library. Under the supervision of Miss Ryan, History Prefects are in the process of cataloguing a huge range of books, which we have been gifted from staff and parents, into our new bookcases. Once this is complete, we have plans to set reading homework and book review homework in Key Stage 3. This will ensure students are accessing historical writing that is both challenging and of high quality.
English
The English department at Oakwood Park Grammar School believes it is paramount to approach boys' love for reading as a hobby not confined to English lessons.
The English department has been busy raising funds through Readathon and dressing up for World Book Day. OPGS turned a new page in its efforts to push students to read for pleasure in last year's Readathon week. The students met the challenge ferociously and many interesting literary conversations took place around school. Students impressed their teachers by reading books from different genres and by authors out of their comfort zone.
Our budding news team made up of Year 7 and 8 students researched, filmed and edited their own news stories. Over 30 were uploaded onto the school's BBC News School Report page and went live on BBC News School Report annual News Day on Thursday 10th March 2016.
Inspired by the PTI's emphasis on subject knowledge, and by the attendance of several Sixth Formers at the Cheltenham Literature Festival 2015, we ran our own literature festival called 'Get Lit' on 4th-8th July 2016. Authors who joined us included: Tom Hart-Dyke, Marc Morris, John Agard, Patience Agbabi, Ben Crystal, Ben Kane, Mark Gwynne Jones, Alan Gibbons and Chris Priestley. Also represented was The Hip-hop Shakespeare Company, Amnesty International, the Holocaust Educational Trust and Canterbury Cathedral. Waterstones also sold books at the festival.
In preparation for 'Get Lit', students went on a pilgrimage to Canterbury Cathedral, retracing Chaucer's steps. Students recited their own modern day version of the Canterbury Tales on stage alongside Patience Agbabi.
The sessions at 'Get Lit' gave our students, and those we invited from neighbouring schools, an enriching experience in a range of literary media and topics.
Whole school
Oakwood Park Grammar School has been involved with the PTI Schools Programme since 2008 when the History department joined. They have now been joined by English, Science, Geography, Mathematics, Languages, Music, Art and Latin. Also, the leadership team participates in the PTI's Schools Leadership Programme and our new teachers make full use of the New Teacher Subject Days. Several OPGS teachers have acted as subject leaders for the PTI Schools Programme.
The school's involvement with the PTI has allowed us to put academic subjects at the heart of school improvement and helped us fulfil our aim of providing an 'Exceptional Learning Experience'. The PTI's emphasis on subject knowledge and rigour has given teachers great encouragement in developing excellent learning opportunities. Some prominent examples of PTI-inspired initiatives are:
An annual Art exhibition
A Space Camp which forms part of our Science enrichment programme
The development of new Key Stage 3 Geography schemes of work designed to encourage independent, enquiry based learning
A huge growth in History-related Extended Projects in Year 13
An annual Primary School Maths Challenge
The development of exchange visits for modern foreign languages – French and Spanish
A visit by author Cliff McNish to lead a Year 7 workshop on Creative Writing and to introduce an evening for boys in Years 5-7 (and their parents) on 'Encouraging Boys To Read'
A GCSE Latin visit to Bath
It is no coincidence that the subjects involved with the PTI have seen improvements in results and student uptake at GCSE, A Level and university. Teachers always return from PTI events with refreshed enthusiasm for their subject and their teaching. Meanwhile, the PTI Leadership Programme gives us expert advice and support in developing our Continuous Professional Development programme and the role of subject leaders.
OPGS is an 11-18 boys' selective school in Maidstone, Kent (co-educational in the Sixth Form). It gained Academy status in 2011 and currently has over 1,000 students. The school was rated Outstanding by Ofsted in 2011/12.