Art Department
Across the school, our work on positive attitudes to mental health has expanded. Our student mental health ambassadors have received training by psychologists and youth workers through the Community Links' 'more than mentors' scheme piloted in Barking and Dagenham. They have mentored individual peers across a 10-week programme and are now preparing to go into other schools to train other students. They are an increasing presence in the school and we are extraordinarily proud of their development of a student referral service, through which pupils can self-refer for a supportive session with one of the ambassadors. Mental well-being is at the core of everything we do at Eastbury and we are thrilled that we now have students that are spearheading our investment in destigmatisation work, in conjunction with the mental health charity, Sane.
Year 10 students worked alongside Art teacher Ms Adeyemi and Ms Greet to create a new base for the Eastbury SANE Black Dog Elvis this term. Students met Mason Noise after completion and discussed their choice of words and visual ideas. Elvis will continue to raise awareness of the amazing work being done both at Eastbury and SANE bringing about more visibility to mental health issues with our young people.
Students chose words they associated with the support of mental health issues such as 'healing', 'hope' and love'. Eastbury thanks year 10 for getting involved and being so positive with the discussions had in form time.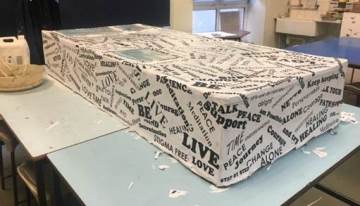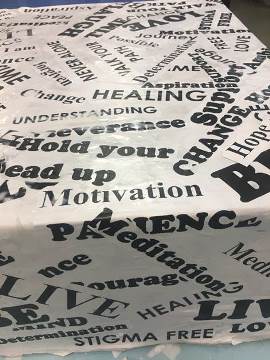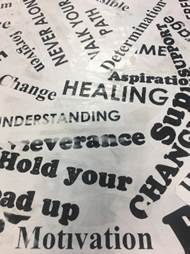 SANE ambassador Mason Noise joined pupils from Eastbury Community School to welcome back a very special four-legged guest. Elvis, a 3ft fibreglass sculpture who is part of SANE's Black Dog Campaign, returned to the Barking school on Friday with a revamped plinth. Elvis was delivered by SANE's new partners AnyVan, who have volunteered to transport the charity's statues across the UK for free in their 'Magic Van'.
Megan Greet, school lead on student mental health at Eastbury Community School, says: "At Eastbury, we have been delighted to work with SANE to raise awareness about mental health issues and embed a culture of openness regarding mental wellbeing that places our pupils in a position to thrive. Hosting the Black Dog has provided a visual reminder for our pupils that it is okay not to be okay, and that there is help available in and outside of school. Our mental health ambassadors are especially thrilled to see Elvis return and use him to signpost other pupils towards our peer-to-peer and buddying systems of wellbeing support."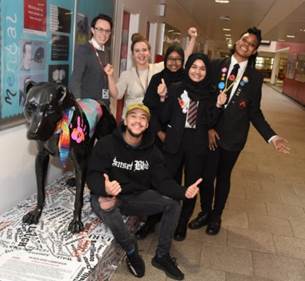 David Dickson, executive head teacher, says: "Student wellbeing and mental health are of paramount importance at Eastbury. I am very pleased that I have ambitious and caring staff, who are leading the way with SANE, striving for world-class provision and outcomes."
Mason Noise, who came seventh on the 2015 series of The X Factor, says: "Having struggled in the past with the Black Dog of depression myself, it's no surprise to me that so many young people are being affected – but the way SANE work is to try and support those who need it. Depression doesn't discriminate, and it's time that we spread the word that it's more common than most still think, especially in schools. Whether we suffer from a mental illness or not, we all let external things dictate our inner being. Anxiety, anger and depression affects us all to some degree – it's time to inspire people to help our friends, family and classmates fight back."
It is estimated that one in 10 young people experience a mental health problem which, if left untreated, can continue into adulthood. It is therefore important that young people become aware of the symptoms of mental ill-health and feel able to talk freely without the fear of being judged or discriminated against.
Marjorie Wallace, chief executive of SANE, says: "We are thrilled that Eastbury Community School have joined us again in our campaign to tackle mental health discrimination. What our Black Dog Campaign seems to have achieved is liberating the language of mental health so that young people can talk more openly and seek help more readily."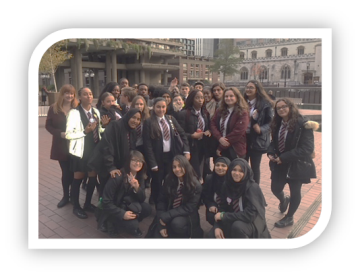 30 Year 10 GCSE Art and Design students were very lucky to be given the opportunity to see the brand new Basquiat exhibition 'Boom for Real' at the Barbican.
They learnt about his life, art and sad early death. He started his artistic journey as a street artist in 80's New York before making connections in the formal art world with Andy Warhol amongst others.
Science department
In the past few months, our students and staff have been engaged in a wide range of enriching projects.
Over the past year, our A level scientists were privileged to work with the European Space Agency and the Institute for Research in Schools to analyse novel data to identify undiscovered supernovae. They presented their findings at the Royal Society and at an international students' conference, as well as training peers in software use and programming. It was fantastic to see their confidence grow as they fielded questions from astronomy experts as well as explaining their findings in a coherent manner to non-specialists.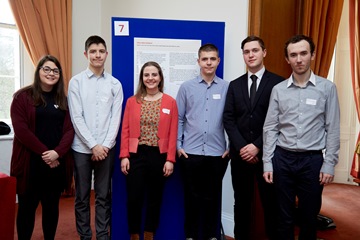 This year, some of our A-level students are working to design and build a safe for the Weizmann UK Physics Competition, whilst others are working with Queen Mary University London to investigate magnetospheric waves.
Twenty of our students from years 10 and 11 are currently working towards an additional GCSE in astronomy, part of which sees them taking tracking observations using a telescope.
A team of students from years 9 to 13 have been working collaboratively to design and fly rockets, entering the UK Rocketry championships in February. So far, they have won their first local heat, flying a rocket to several hundred feet and safely returning a payload.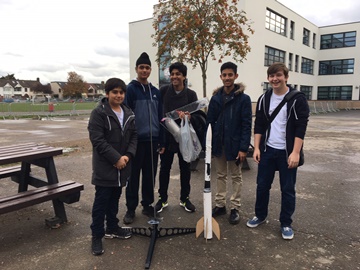 In years 8 and 9, our growing team of science ambassadors have represented the science department at open evenings and run sessions in several primary schools to excite younger pupils about science.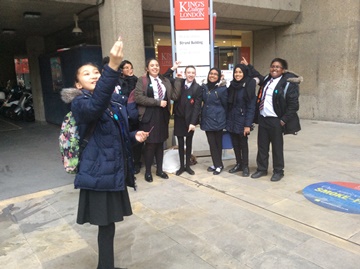 The ambassadors also played a key role this term in demonstrating and explaining during our first science fair. On the day, the whole school came off-curriculum for their science lessons and explored concepts outside of their usual studies.
At key stage 3, pupils got stuck in to dissections, viewing pond wildlife using microscopes, and even building their own sundials! Some students were also selected to experience a huge-scale space show in the giant planetarium we had installed in the main hall. In this session, they learned about the life of stars and the mind-boggling scale of objects in the universe.
Our key stage 4 pupils also had the chance to visit the planetarium and found out more about the Big Bang theory and black holes. Their host was immensely impressed by the scope of their questions regarding 'spaghettification' in the enormously strong fields associated with black holes. In their science lessons, all the students got hands-on, competing with paper aeroplanes and race tracks for marbles, as well as making their own plastics and conducting experiments into psychological phenomena.
In addition to these large-scale sessions, many of our year 11 triple science students were able to work with our 6th form physicists, building miniature particle accelerators and soldering their own equipment to investigate quantum physics through the particle nature of light. Our key stage 5 biologists and chemists had the chance to quiz current medical students and were treated to a session by research specialists from QMUL, during which they made their own glow-in-the-dark liquids.
We are delighted that the fair was such a success and look forward to making it an annual event – watch this space for Eastbury's Summer Science Fair 2018!
The work that we have been investing in through enrichment, exciting curricular provision and increased professional development of teaching and non-teaching staff was recognised at the latest TES awards, where we were shortlisted for science team of the year. It was an absolute pleasure to take a moment to reflect on all the hard work in our department and see the valuable endeavours of other departments across the country.
Music department
Eastbury has a thriving and vibrant Music department where Music is taught throughout Key Stage 3 and as an option subject in Key Stage 4. The Music curriculum is topic-based and explores music in its geographical and historical context. Topics include blues, hip hop, reggae, programme music, film music, podcasting and music in the media. All students make music using ukuleles, keyboard, samba and djembe drums, our suite of Apple Macs and iPads, as well as singing regularly, which is central to our curriculum.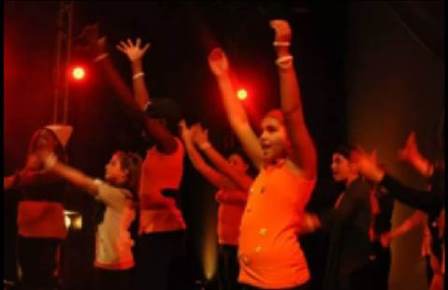 In addition to this, students can receive one-to-one instrumental lessons. We also run a variety of ensembles and clubs for students including our choir, wind and jazz bands and performing arts troupe. Our popular concerts showcase the students' talents in school, and we have also performed in a number of venues across London, including the Royal Festival Hall in July 2015.
School Leadership
Six creative, driven and enthusiastic graduates joined the school to work directly with students who were falling behind in their literacy. A combination of teacher recommendation and reading ages were used to select students from across the ability range who would benefit most from a boost of support in Key Stage 3.
The students were taken out of three non-core subject hours a week to be taught intensively in small groups using resources from the Hackney Literacy Trust. Their intervention would last a term, and through the hard work of the literacy mentors, 95% of students made progress in their reading ages, whilst student confidence greatly improved.
The small groups offer space for students whose literacy difficulties have sometimes been masked due to high levels of oracy and articulation, to be given direct support and encouragement in their reading and writing. Benefits are seen across their subjects and in life outside of school.
Maths department
The Maths department at Eastbury has extended revision outside the classroom, taking students out of the classroom working on teamwork with fun outdoor activities.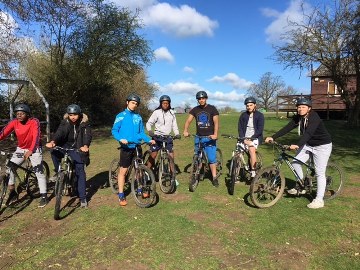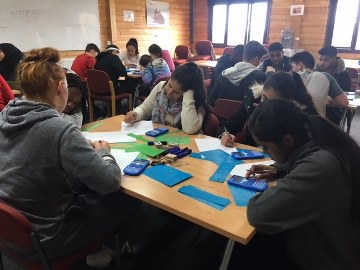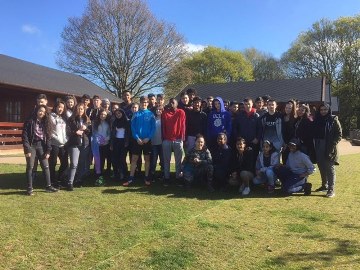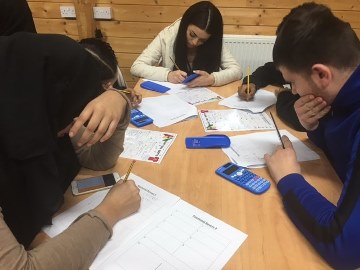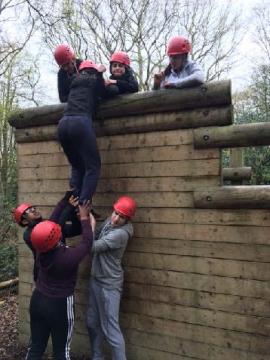 A group of students represented the school at the UKMT/FMSP Maths challenge, with students taking part in both the Junior and Senior Maths Challenge.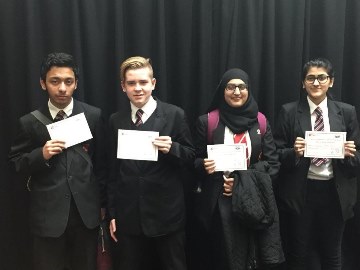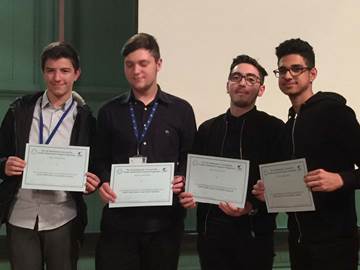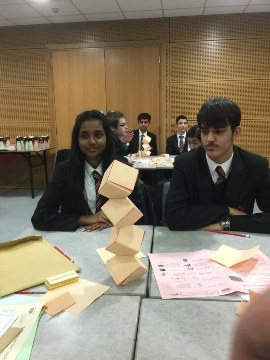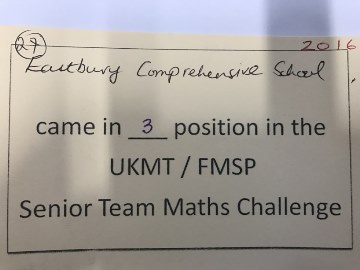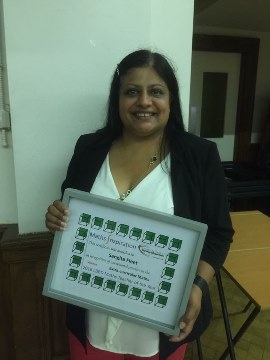 Eastbury Community School is a community secondary school and sixth form in the east London Borough of Barking & Dagenham.